Accurox have worked with construction companies of all sizes for many years.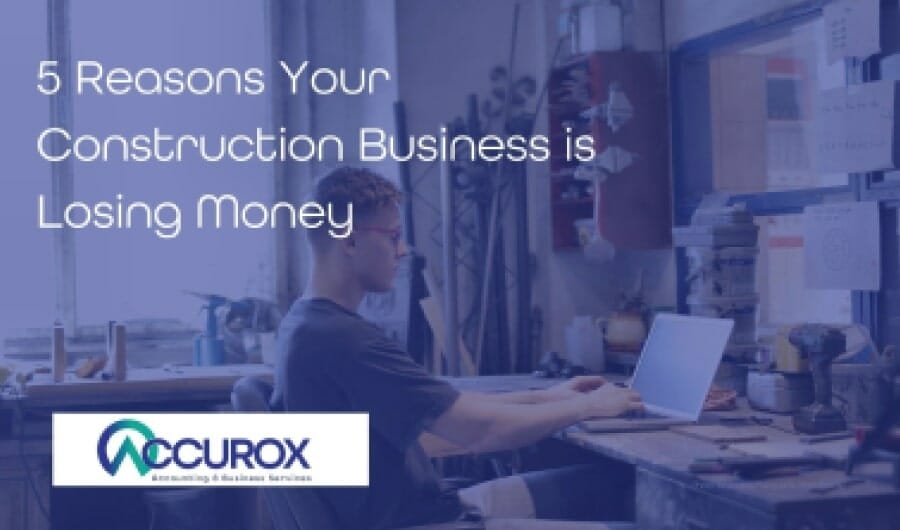 We've seen all the ups and downs, some of which are unique to the industry, while some are common across every business. When a construction business is losing money, the cause is often one or more of the following reasons.
Unreturned Calls
80% of all business takes place over the phone. Missing or not returning a phone call means your potential client will quickly move on to the next business on their list. Subsequently, you not only lose out on the work but have potentially created a bad impression.
Resolve this by setting aside dedicated time each day to follow up on calls and other admin. Alternatively, delegate the initial exploratory conversation to an employee you can trust. In addition, explore other ways to receive work enquiries or respond to queries. Utilise messenger on your Facebook page or Twitter for Business. Or add a FAQ page on your website that answers the questions you most often receive.
Don't avoid leads because you haven't finished their quote yet. Get in touch and explain the delay. Most people are reasonable and will appreciate your honesty. However, if they just can't get hold of you, that frustration could be sending them to your competition.
Taking Too Long to Send Quotes
Taking too long to respond to your customer's need with a quote creates a competitor shaped vacuum. Streamline the way for you to easily provide quotes, updates, and change orders to your customers.
Apps like Xero facilitate on the spot quotes. It might need tweaking when you work it out more carefully but knowing that your quote is in the right is half the battle when winning new work.
No Job is Too Small
Well, that's subjective, isn't it? A job that seems quick and easy, is no longer quick and easy if the customer is hard to deal with, constantly moving the goalposts or reluctant to pay up!
Calculate the minimum time you spend on any client, no matter what the job. Then factor a minimum charge into quotes, to avoid timewasters.
Equally, if you are not costing your jobs correctly, you may be losing money in areas you do not even realise. Again, Xero can provide a great solution for this over the long term. By matching your estimations for a job with the real costs. By using this method, you will quickly be able to see the kinds of jobs that are just not worth taking on, because they are draining valuable time and energy.
Putting All Eggs in One Basket
Things change. Avoid putting all your eggs in one basket and cover your bases.
Keep looking for new business. Don't assume a job is certain until it is in the door. Always keep feelers out for new business.
Wean your business off being overly reliant on one employee or tradesperson. That dependence will cause a bottleneck if they become ill, or suddenly decide to move on.
Are you stuck in your ways with old fashioned systems, while your competitors are streamlining their processes, embracing technology, and cutting ahead of you?
Start by identifying ways you can diversify your business (Covid-19 may have already sent you along this pathway), creating a framework of networks and systems that mean your business is not too heavily dependent on one or two key people, and embrace the digital world to streamline your procedures, efficiency and improve your ability and speed to quote, invoice and get paid.
Poor Financial Systems
It is usually the word "finances" that causes confident, self-assured business owners to suddenly freeze like a rabbit in the headlights.
Turbo charging your financial system will have a knock-on effect on improving all those other areas we have touched on. As accountants and business advisors we are always advocating cloud accounting. We do that because it can broaden horizons and improve opportunity. Software like Xero offers business owners the ability to keep track of all their finances in a quick and easy to understand way.
Expenses are tracked at the point of transaction. Your bank accounts are aligned. Invoices and quotes are generated and stored within the same system – easy to access, anytime, anywhere. Estimates for new jobs are calculated on the spot. Rather than several days later, you can no longer remember what was discussed.
Ultimately, this frees up time to set aside each day. This time can be allocated to respond to calls, to create quotes for new work, to target the kind of work that is most profitable and plays best to your strengths and to diversify your business. Alternatively, your new cashflow confidence means you could hire a P.A. to help with those calls and quotes. Or take on more tradespeople to turn jobs around more quickly, leaving your business open to more work.
So, what's stopping you? Your business has everything to gain and everything to lose. If you would like to speak to us about Xero and other forms of cloud accounting, or our services, get in touch with us now.
Get in Touch – We'd Love to Help
Get In Touch
"*" indicates required fields